Recent Projects
Dermatology and Laser Surgery Center
955 Park Avenue

12 Photos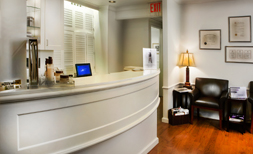 This medical facility received an interior face lift. The work consists of new flooring, millwork, painting, and plumbing. We completed this project while the office was partially closed for vacation. Work was completed on time and on budget.
350 East 82nd street apt 10HNew York, N.Y. 10075

7 Photos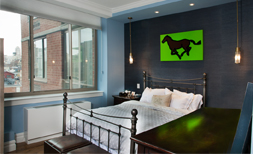 This is a two bedroom, two full bath apartment renovation, approximately 1142sf, that includes installation of new Heritage Walnut Natural 8' wide plank flooring throughout. Custom kitchen cabinetry and closet interiors were installed. Kitchen was opened up, with no walls separating living room space for even flow. The kitchen counter tops installed are Alpine Mist Quartz Stone with a Marazzi weekend backsplash. New bathroom flooring installed, with heated master bathroom floor. Bathroom stone/tile used were Florentine Asian Statuary Marble Tile, with Athens Gray line and Monarch Cipollino, with Thassos Strips Marble Tile. New bathroom fixtures, vanities, medicine cabinets and lighting were installed. Wall covering installed at one wall in living room and master bedroom. New soffits installed in living room and master bedroom with low voltage Contrast Lighting. Sonos system installed in living room.
400 East 77th Street apt 19B/L, New York, N.Y. 10075

19 Photos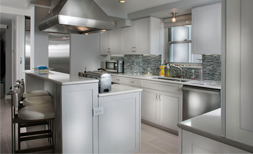 This two apartment Penthouse combination (apartments 19B and 19L) has 1700sf of living space with a combined 1000 combined sf of outside terraces. This apartment has four bedrooms, a living room/dining room, a kitchen, a laundry room and three full bathrooms. Every item is custom, from closet interiors, kitchen cabinets and millwork, to bathroom vanities. Carlisle wide plank flooring (old growth hickory, heirloom grade, pre-finished with white wash fence stain and clear satin), Robern medicine cabinets, a subzero refrigerator, Miele appliances, Wolf range, Toto toilets, Rohl and Kallista bathroom fixtures. Some of the stone and tile materials used include Basaltina, Verde Colorado Crosscut, Grigio Tucci, Thasso Basketweave with Celeste Blue Dot, Carrera Basket Weave with Alaskan Blue Dot and Cesar stone. Central HVAC system was installed. Venetian plaster was installed as well in some areas. Sonos system installed throughout. All high end finishes throughout.
Riverside Drive (Owner Requested Privacy)

10 Photos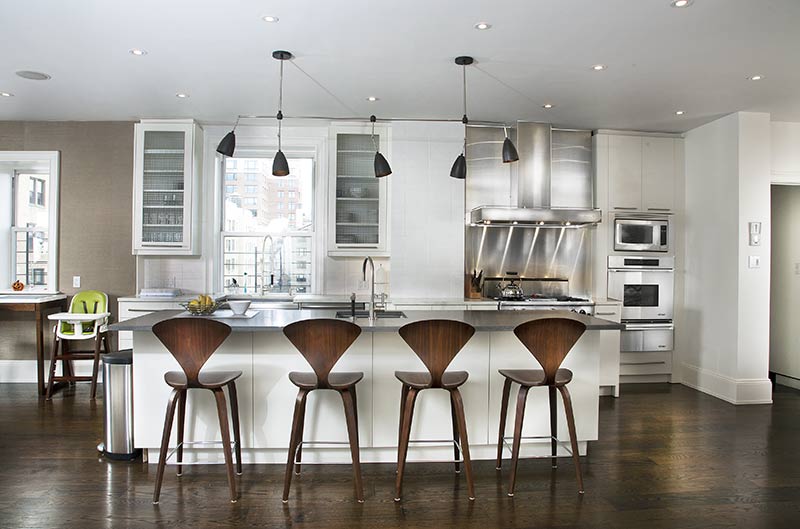 This private four bedroom duplex home located on the 9th and 10th floor of one of Riverside Drive's premier coops with Hudson River views. This home is approximately 4000sf and features a large Great Room that incorporates an expansive open Chef's eat-in kitchen. In addition to 4 bedrooms, there is a sizeable bright maid's room, 4.5 bathrooms, large living room, dining room, and den. The expansive layout has two floors with a magnificent staircase allowing a wonderful separation between entertaining rooms upstairs and private living spaces down stairs. The renovation consists of installation of new hardwood flooring, refinishing wood staircase, adding a laundry room, new stone and tile for kitchen countertops and backsplash, refinishing kitchen cabinets off site, new millwork, new wall covering, new electrical and plumbing in certain areas, new AV wiring, and new custom painting throughout.
345 East 80th Street Apt# 24hj

12 Photos
This two apartment combination with approximately 1400sf has two bedrooms, (electrical accommodations made for future third bedroom), open kitchen, large master bathroom, full guest bathroom, walk-in-closets, large open loft space living room that flows into dining room and kitchen. This was a full gut renovation with new electrical and plumbing, new HVAC units with wall thermostats, heated bathroom floors, custom kitchen cabinets, custom bathroom vanities, custom walk-in-closets, custom closet interiors throughout, full height solid 1-3/4" pivot hinge doors, 6" wide Carlisle Flooring, 1-1/4" Concordia stone countertops, Venetian plaster ceilings/ walls, and many more top of the line finishes.
109 Waverly Place

20 Photos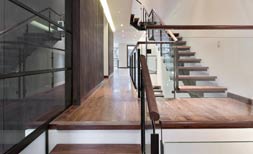 This project was a full-gut rehab of a landmark building located in the West Village. The project contained six levels of living space that were developed within a core and shell of a building. Highlights of the project included new steel beams installed at every level, a cellar extension that is located under the backyard and the underpinning of adjacent properties. An elevator shaft, a new roof bulkhead and many high-end finishes were also installed. Vincon was the construction manager for this project.
440 East 56th St. Apt# 12G
This project was a two-bedroom gut rehab the included new walls, new bathrooms, a new kitchen, new wood flooring, new through wall HVAC units, new paint, new millwork, new windows and new doors.
400 East 52nd Street apt. 5c/5d New York, N.Y.
This was a two apartment combination renovation. We combined a two bedroom apartment with a one bedroom apartment. It was completed with all custom millwork cabinetry through out kitchen, laundry room, master bathroom, closets and bedrooms. New wood flooring installed to match existing wood flooring, LED lights throughout, all high end finishes. You can not notice that this was ever two separate apartments.
Greene Street in SOHO NYC (owner requested privacy)

16 Photos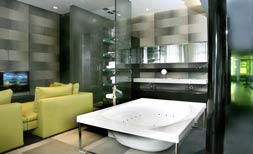 This full gut 3000sf loft renovation in the heart of SOHO is our feature project. All materials were shipped in from Italy. A famous designer was obtained from California on this project that paid attention to ALL details throughout the unit. A crane was needed to hoist all materials from the street through 5th floor window on a number of occasions. This project was very challenging to say the least.
60 West 66th St. Apt# 32F
This project was a one bedroom apartment rental that needed woodwork, new finishes and painting.
428 East 9th St.
This project included minor interior repair work in the public corridors as well as exterior brick and chimney work at the roof level.
162 East 78th St.
This project was a full gut renovation of a townhouse, including an addition of a top floor, making the whole building a total of seven levels. The building was located with adjacent properties on either side, making the completion of the job even more difficult.
150 East 69th St.
This project is a large one bedroom apartment that had a fire and needed to be renovated to include new kitchen, bathrooms, hardwood flooring, new ac/heat wall through units and many new finishes.
721 5th Avenue "Trump Tower"
Among Vincon's prestigious work, lies the luxurious and unique 721 5th Avenue "Trump Tower", where we were fortunate to work with one of New York City's top interior designer. Vincon was extended the distinct opportunity to perform a full gut renovation of a one bedroom apartment on the 30 th floor of the lavish skyscraper overlooking New York's Central Park. Work included new master bathroom, guest bathroom, new millwork, upgrade kitchen and new flooring.